Medical Library
Loading...Please Wait
Ankle Sprains/Instability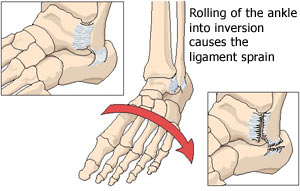 Ankle sprains are a common injury. They usually occur when the foot is forcefully inverted or turned inward. Grade I (minor tear), Grade II (partial tear), or a Grade III (complete tear into two pieces) damage of the outer ligament complex (the anterior talofibular ligament and less often the calcaneofibular ligaments) is the result. Injuries to the inner aspect of the ankle are rare and often result in a fracture before ligamentous damage occurs.
Signs and symptoms of an ankle sprain include lateral ankle pain, swelling and a sense of instability. Stress X-rays may be helpful in ruling out fractures.
Treatment of an acute injury requires rest, ice, compression, elevation, and bracing of the injured ankle. Early rehabilitation assists in a rapid recovery. Surgery (reconstruction of the ligaments) is only necessary when the ankle is repeatedly sprained.
Possible Treatment Goals
Improve Balance
Improve ability to bear weight/stand on the leg(s)
Decrease Risk of Reoccurrence
Improve Fitness
Improve Function
Optimize Joint Alignment
Improve Muscle Strength and Power
Increase Oxygen to Tissues
Improve Proprioception
Improve Range of Motion
Self-care of Symptoms
Improve Safety
Improve Tolerance for Prolonged Activities
Additional Resources
Disclaimer
The information within this Medical Library does not represent the views, opinions, advice, or treatment philosophy of E6 Physical Therapy. Any reference herein to any specific commercial product, process, or service by trade name, trademark, manufacturer, or otherwise, does not constitute or imply its endorsement, recommendation, or favoring by E6 Physical Therapy or its employees/affiliates and any such reference shall not be construed as advertising or product endorsement.