Medical Library
Loading...Please Wait
Fractures/Dislocation Elbow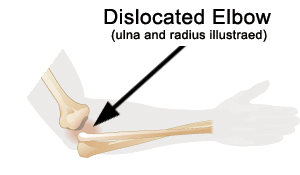 Elbow fractures usually involve a fall onto the outstretched arm or a direct trauma to the elbow. With elbow dislocations there may be associated nerve and/or blood vessel injuries. X-rays may show the fracture or dislocation but small breaks may be difficult to see.
Fractures are an emergency and immediate reduction (or placing the bones together to allow healing) is necessary. Bone breaks within the joint need special attention to ensure recovery of proper function of the joints.
Possible Treatment Goals
Improve Function
Improve Muscle Strength and Power
Decrease Postoperative Complications
Improve Range of Motion
Self-care of Symptoms
Improve Safety
Improve Wound Healing
Disclaimer
The information within this Medical Library does not represent the views, opinions, advice, or treatment philosophy of E6 Physical Therapy. Any reference herein to any specific commercial product, process, or service by trade name, trademark, manufacturer, or otherwise, does not constitute or imply its endorsement, recommendation, or favoring by E6 Physical Therapy or its employees/affiliates and any such reference shall not be construed as advertising or product endorsement.