Medical Library
Loading...Please Wait
Patello-femoral Pain (Commonly Called Chondromalacia Patella)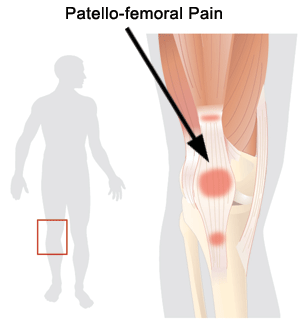 Chondromalacia meaning softening of the patellar cartilage, is a common misdiagnosis. Softening of the cartilage can only be detected by directly visualizing the cartilage during surgery. The correct diagnosis for pain and swelling originating from under the kneecap is Patello-femoral Pain.
Treatment includes pain relief with rest, ice, compression, and elevation. Swelling must be controlled. Anti-inflammatory medications, bracing, and physical therapy are often helpful. Progressive strengthening of the quadriceps is essential. Occasionally, foot orthoses may be helpful. Rarely, surgery is required to assist in realigning the kneecap by releasing the tight structures on the outside of the kneecap and reefing the inner structures.
Possible Treatment Goals
Improve Balance
Decrease Risk of Reoccurrence
Improve Fitness
Improve Function
Optimize Joint Alignment
Improve Muscle Strength and Power
Increase Oxygen to Tissues
Improve Proprioception
Improve Range of Motion
Self-care of Symptoms
Improve Tolerance for Prolonged Activities
Additional Resources
Disclaimer
The information within this Medical Library does not represent the views, opinions, advice, or treatment philosophy of E6 Physical Therapy. Any reference herein to any specific commercial product, process, or service by trade name, trademark, manufacturer, or otherwise, does not constitute or imply its endorsement, recommendation, or favoring by E6 Physical Therapy or its employees/affiliates and any such reference shall not be construed as advertising or product endorsement.