Medical Library
Loading...Please Wait
Scaphoid Fracture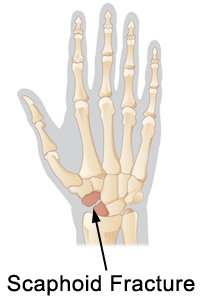 This is a common carpal wrist bone fracture. Often wrongly diagnosed as a wrist sprain, there is tenderness or pain where the base of the thumb meets the wrist, an area called the anatomical snuffbox. It usually occurs in the adolescent or young adult with a fall on the outstretched hand or with high velocity wrist injuries (like motorcycle accidents).
Treatment for a scaphoid fracture can be difficult. If there is just a crack in the scaphoid bone, it requires a thumb splint for 6 weeks or until healed. If the bone is completely broken apart, it will require surgical fixation. Because of the unusual blood supply, the fracture may not heal completely (delayed union) or avascular necrosis (death of the bone because of loss of the blood supply) may result.
Possible Treatment Goals
Improve Function
Improve Muscle Strength and Power
Improve Range of Motion
Self-care of Symptoms
Additional Resources
Disclaimer
The information within this Medical Library does not represent the views, opinions, advice, or treatment philosophy of E6 Physical Therapy. Any reference herein to any specific commercial product, process, or service by trade name, trademark, manufacturer, or otherwise, does not constitute or imply its endorsement, recommendation, or favoring by E6 Physical Therapy or its employees/affiliates and any such reference shall not be construed as advertising or product endorsement.