Medical Library
Loading...Please Wait
Anterior Knee Pain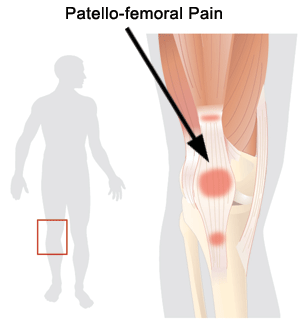 The patello-femoral joint (the joint between the kneecap and the thigh bone-called the femur) is a problematic area for many. Excessive forces on the underside of the kneecap (causing painful stress on the cartilage on the underside of the kneecap), quadriceps tendinitis/tendinosis and patellar tendonitis/tendinosis are three common causes of pain in the front of the knee. Chondromalacia (softening of the cartilage) patella is also a common diagnosis for anterior knee pain.
Overuse and poor hip strength are often associated with these conditions. These conditions can be managed with physical therapy, taping/bracing of the knee and hip, and with the appropriate eccentric and hip stabilization exercises per your therapist's recommendations.
Possible Treatment Goals
Decrease Risk of Reoccurrence
Improve Fitness
Improve Function
Improve Muscle Strength and Power
Increase Oxygen to Tissues
Improve Proprioception
Improve Range of Motion
Self-care of Symptoms
Improve Tolerance for Prolonged Activities
Additional Resources
Disclaimer
The information within this Medical Library does not represent the views, opinions, advice, or treatment philosophy of E6 Physical Therapy. Any reference herein to any specific commercial product, process, or service by trade name, trademark, manufacturer, or otherwise, does not constitute or imply its endorsement, recommendation, or favoring by E6 Physical Therapy or its employees/affiliates and any such reference shall not be construed as advertising or product endorsement.