Medical Library
Loading...Please Wait
Mallet (Baseball) Finger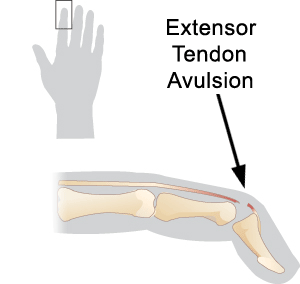 This fracture results from a trauma to tip of the finger forcing it into flexion (rapidly bending it down toward the palm) and avulsing the extensor tendon. This injury commonly occurs in baseball and basketball when attempting to catch a ball. Signs and symptoms include pain, swelling, and an inability to straighten out the last digit of the involved finger.
Treatment includes splinting of the finger in the straight position for 6-8 weeks. In some cases, surgical pinning of the finger in a straight position along with splinting is necessary.
Possible Treatments
Possible Treatment Goals
Improve Function
Improve Muscle Strength and Power
Self-care of Symptoms
Additional Resources
Disclaimer
The information within this Medical Library does not represent the views, opinions, advice, or treatment philosophy of E6 Physical Therapy. Any reference herein to any specific commercial product, process, or service by trade name, trademark, manufacturer, or otherwise, does not constitute or imply its endorsement, recommendation, or favoring by E6 Physical Therapy or its employees/affiliates and any such reference shall not be construed as advertising or product endorsement.